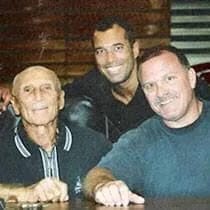 Today, Tuesday September 7, 2021 was the first official BJJ classes at Hendo BJJ * Rise MMA in Hendersonville, NC. We had an excellent turnout for our BJJ Kids Class and I look forward to more Kids registering in our BJJ for Kids Program.
To those who attended, great job! I'm glad to be able to share to world's greatest self defense system with you in our Gracie Jiu-Jitsu program. As we discussed and I share with our parents, BJJ is for EVERYBODY! It does not matter how big, or fast, or strong, or athletic a person is (your child!)….it is all about body weight, angles, leverage, timing and technique.
If your child is being bullied, or is bullying someone, please bring them for a FREE class and let's get a handle on this situation. The secret to be good at Brazilian Jiu Jitsu is showing up for Brazilian Jiu Jitsu classes! This goes for men, women and children…..BJJ is indeed for everyone!
So you will know, I'm Larry Shealy and I'm a 3rd-Degree Black Belt Instructor training under the legendary grappler Master Rigan Machado. Master Rigan is a cousin of the Gracie family and a highly decorated BJJ Competitor. Where most large schools farm out their kids classes to the younger lower level belts, for over 17 years of school ownership, I've always remained the Chief Instructor of our Adult and Kids programs.
Why is that? The reason is that I not only enjoy teaching the kids, I'm also very adamant about safety in class and what to look for in keeping the kids safe, I also enlist several people to assist in keeping the kids safe on the mats. When sparring I always have one trained assistant, for every two children training live or sparring in BJJ. (example: 8 kids sparring, 4 trained instructors on the mat) IN BJJ……SAFETY IS PARAMOUNT!
As they say, the proof is in the pudding….so I urge you to email me at Professor@HendoBJJ.com and set up an appointment for your child/children to take a class. The Jiu Jitsu will be very enlightening from a self-defense standpoint, the pace will be fast and with good body movement exercises, and the Core Value of the Week will always ring true with what you are teaching your children at home.
Do yourself and your children a favor and give them the gift of the World's Greatest Self-Defense System. You and them will be glad you did, in short order.
Come train at Hendo BJJ!
Professor Larry Shealy
3rd-Degree Rigan Machado Black Belt Instructor
Rigan Machado BJJ Association