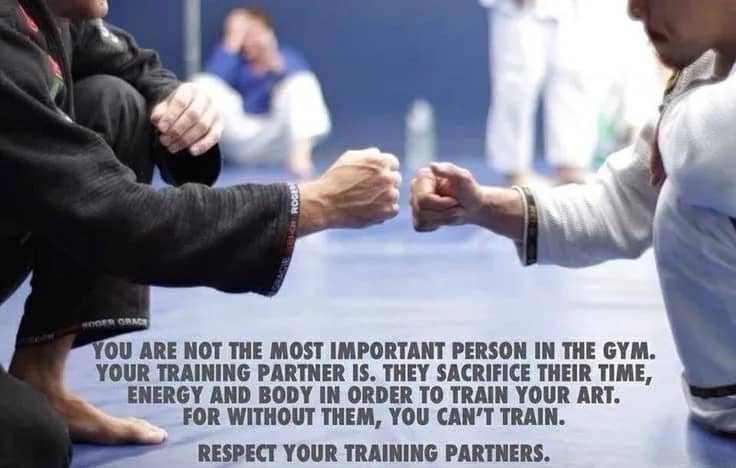 Who is the most important person in your BJJ Academy? Is it the owner, the main instructor?
I don't think so. I personally think that in any combat sport: karate, wrestling, BJJ, boxing, Muay Thai; your training partner at any given time is the most important person in the gym.
That being said, here are 4 important aspects of being a good training partner:
1. Respect is super important to demonstrate at all times. Respect your partner enough to keep him/her safe at all times. Keep in mind that you should not train with the same intensity with a 24 year old competition champion, as you would train with a 60 year old physician. Use your brain, not your brawn when you train!
2. Personal Hygiene: using good personal hygiene will help reduce skin and other health issues. It should go unsaid that YOU and Your Gi should be clean for every class. Nails should be trimmed. Nobody wants to roll with the stinky guy, and the gym owner will ask stinky to leave the mat. Don't be STINKY!
3. Be Technical on the Mat: if you're training Jiu-Jitsu, there is a Law of Diminishing Returns in training if you train at 100% at all times, at full steam like a bulldozer. You will not be using proper technique, you will tire easily. Nobody will want to train with you, as lack of technical training can lead to injury Of yourself and your training partner. You can train for the rest of your life if you pay your dues by learning to relax and train with efficiency. No one wants to get hurt by the class spaz. Don't be a spaz!
4. Safety is Paramount in BJJ: in EVERY situation, you should be 100% tuned in to your body movements and how each move you make can possibly effect you and your partner. It's not the UFC, it's just training and you must stay safe and keep others safe at all times. Do NOT do any technique in sparring that you have not practiced in class.
In closing, be very consistent and predictable in your training. Stay within yourself and quit forcing things that are not there. There's always someone that is bigger, faster, stronger and more athletic; so practice good, technical Jiu-Jitsu at all times….your training partners with thank you and your body 10 years from now will thank you too!
"Train Hard, Train Smart…Train for LIFE"!