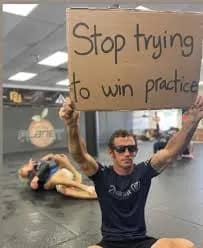 Starting martial arts can be somewhat overwhelming for a new student…no matter which martial art you choose.
If you happen to choose to train in Brazilian Jiu-Jitsu (BJJ), I'd like to share a few tips to assist you in your new journey
Be Humble. Coming in to any any martial art or BJJ school, any time and anywhere….it's a good idea to leave your EGO at the door. Respectfully, it's cool that you trained in another art, or have wrestled or that you are a good boxer or 'street fighter'. If you come in to a legitimate BJJ School to prove yourself, chances are you will be humbled. One's strength, speed, size can be easily neutralized in BJJ with the application of leverage, timing, acquired technique and guile. Come train, with humility and your start in BJJ will be incredible.
Know why you are here. We are not here to beat up our training partners. We are training in Gracie Jiu-Jitsu to learn the worlds best self-defense system for the Average Joe or Jane, and practice what we are learning in a safe, controlled environment. We are not trying to 'win practice', we are trying to be better today than we were yesterday.
Relax and Be Patient. It takes a while to learn BJJ terms, positions, techniques, set ups, transitions, submissions, defenses, various drills etc. The new student often comes in and wants to go at 100 mph, using strength, speed and athleticism to 'beat' their training partner…..which is counter-productive in learning BJJ. "Slow is smooth and smooth is fast" will prove effective as your learn the beautiful art of Jiu-Jitsu. Trust the techniques that we are teaching. It will be worth it!
In Closing- I believe if you utilize these tips as you begin your Brazilian Jiu-Jitsu Journey, it will be a less frustrating endeavor, your technique will be more fluid, and your cardio will improve over time. And….you will be able to build a BJJ foundation that you can build on for the rest of your life.
"Train Hard, Train Smart….Train for Life"!
~Prof. Larry Shealy